Pride Sasser
Pride Sasser is known in the home furnishings industry for his innovative and eclectic styles and designs.
Over time, he has designed home furnishings and accessories in all major categories.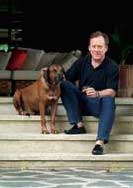 Graduating from the University of North Carolina at Greensboro with a BFA in sculpture, Sasser joined the design department of Masco, at the time a holding company for furniture manufacturers Henredon, Drexel Heritage, Maitland Smith and Universal among others.
In his mid 20s, Sasser moved to the Philippines to work with the Maitland-Smith factory and Paul Maitland-Smith. A decade later he opened his own design firm in Cebu. He continues to design for many companies in the industry, and to design and produce for other high-end furniture companies such as Century Furniture, Baker Interiors, Henredon Furniture, EJ Victor, Ralph Lauren, Maitland Smith, Artistica, Harden Furniture and Simon Horn. His factories are located in Cebu, Philippines.
Sasser has looked for inspiration beyond the furniture industry. Aside from region specific materials like shells, bamboo and stones, he considered materials used in boats, architecture, skyscrapers, and the oil industry for his pieces.
Through research and a personal motivation to use only environmentally-friendly materials, he has learned how to mold, cast and finish the high-tech lightweight concretes used in the building industry to recreate a wide range of period pieces from 1500 to 1960′s.
For fun and hobby, Sasser enjoys antique hunting and outdoor cooking and especially BBQ.
---
EDUCATION :
B. F. A. in Sculpture and Design
Area of Study – The Human Figure
University of North Carolina at Greensboro
1984 – 1987 :
Freelance Sculpture – Museum Reproductions
Specializing in Human Figure
1987 – 1989 :
Designer – Christopher James, Ltd.
Lighting, Accessories, Unique Accent Furniture
1989 – 2001 :
Freelance Designer – Masco Home Furnishings, Maitland-Smith Ltd.
Lifestyle International Home Furnishing Group,
Henredon, Drexel Heritage, La Barge,
Lexington Furniture Industries, Robert Allen Showrooms.
1995 – Present:
Founded Pride Sasser Home Furnishings and Cosonsa
Manufacturing, Inc.