Pride Sasser Home Furnishings (PSHF) and Cosonsa Manufacturing Inc. is a maker and designer of furniture, home decor and accessories, lamps and lighting fixtures in all types of mixed media.
We make high quality products for the upper end of home furnishings market worldwide.  We currently supply to the United States, Europe and Asia, as a OEM vendor to customers such as: Century Furniture, Baker Interiors, Henredon Furniture, EJ Victor, Ralph Lauren, Maitland Smith, Artistica, Harden Furniture and Simon Horn among others.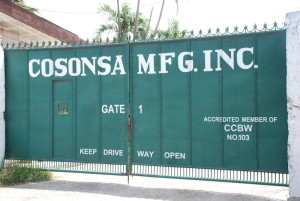 Our furniture manufacturing and sourcing group has operated in Southeast Asia since 1995. During this period, we have gained intimate knowledge of the region, its people and cultural environment. We have offices in Hong Kong, People's Republic of China (PRC) and the Philippines, and we also employ QC survey contractors in China (PRC), Vietnam, Thailand and India.
Our expertise in manufacturing, logistics, packaging and QC/Survey functions have been applied to a variety of areas, namely contract and residential interior furnishings.
With the Philippines as a base of operation, our main factory showroom  is located at G. Ouano Street, Alang-Alang, Mandaue City, Cebu. The main factory (Plant 1) has a floor area of 18,648 square meters.  Plant 2, built in 2006, is located at Lilo-an Cebu for our housing, finishing, upholstery and packing department.  We operate with  over 350 dedicated personnel and exclusive contract vendors.
Our skills and capabilities include:
Ceramic shell casting  and investment casting using the lost wax method with a current capacity of 8 tons per month. Available metals are brass, aluminum, gold and silver.
Stamping, tool and die work, fabrication of metal in welding, soldering, forging, brass and aluminum spinning and silver.  Wrought iron fabrication in steel, cast iron and stainless steel.
Plating in silver, gold copper, nickel and along with powder coating ability. Electro-forming in brass, zinc, copper and stainless on a variety of substrates like wood, resin, marble and organic materials.
Glass fabrication with slumping, and fusing in glass.
Lapidary inlay work such as semi precious stones and materials like mother of pearl and various native shells, marbles, bone and weaving materials.
Rattan and wicker fitted with brass castings, iron, aluminum and other metals.
Custom designed outdoor furniture in all media.
Working in domestic and imported hardwoods in solid wood furniture.  Producing veneered furniture with high-end veneers and fancy face panels.  All FSC (Forest Stewardship Council) solid wood approved in compliance with our green initiative.
In-house mill work shop for moldings and doors.
Finishing capability with various wood, faux and paint finishes developed to the discriminating high-end market.
UL listed lighting in portable, wall and ceiling mounted fixtures in all media.
Glass fiber Reinforced Concrete – GFRC.   Planters, fountains, accent tables, outdoor Architectural components and Fireplace surrounds
A multi-skilled work force executing an intricate mix of materials.